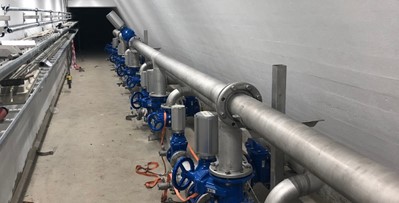 Fredericia wastewater treatment plant | Very large vertical paddle wheel flocculator delivered
11 months from start-up to delivery: Aquagain has just completed an exciting project at Fredericia wastewater treatment plant where, amongst other things, we replaced their vertical paddle wheel flocculator.
The new flocculator which was manufactured in Aquagain's workshop has a diameter of 14 meters and is, thus, very powerful.
The delivery also included an aluminium cover of the sludge concentration tank, the installation of four tank gates of 2 x 1.6 meters (in opening) in the primary tanks, flashing and covering of these gates and entirely new ductwork in the technicians' passage at the primary tanks.
Although the project posed a few challenges, we solved the problems and delivered a final product that pleased everyone.