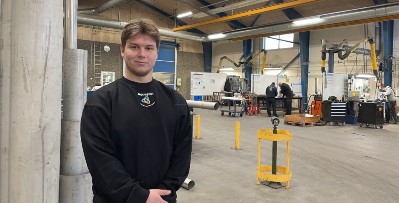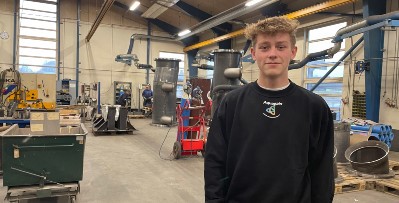 Learning agreements entered into with 2 young men
At the end of 2022, we had 2 young men for a week's internship, and we were very pleased with their attitude and approach to the technical challenges we gave them. We were, therefore, happy when they both chose to accept our offer of an apprenticeship.
We have now entered into a learning agreement with Kiril Ryabikin and Jonas Lund; at the time of writing, they are both on Basic Course 2 at Hansenberg in Kolding, so we look forward to them becoming part of the company in the summer.
Kiril Ryabikin – let's start with his name; Kiril was born in Ukraine but has lived in Denmark since he was a child.
Kiril is a diligent and hardworking young man who lives in Vejen with his parents and little sister. He has played some football and is the coach for Vejen's U12 boys.
Kiril had originally intended to become a carpenter, but to our delight he changed his mind during Basic Course 1, where he got to test life both as a carpenter and as a blacksmith.
Jonas Lund lives with his father in Lunderskov, and when he wants to relax, it's either with friends or a round of CS:GO, which he's quite good at, although he says he's not quite up to his older brother's level.
Jonas is not afraid of hard work and has given both bricklaying and carpentry a try, but luckily it was metalworking that finally caught his interest.
During the internship period at Aquagain, they have both been involved in production and assembly. Not everyone likes to work with wastewater, but it takes more than that to scare these 2 healthy lads, so we're sure we've got ourselves a pair of capable apprentices.