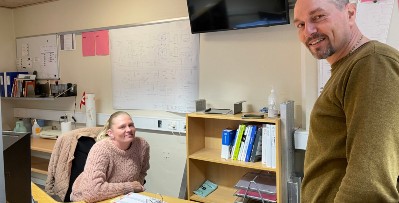 The technical department is growing with 2 Mechanical Designers
Chanett Olsen started as a Mechanical Designer in our technical department on 3 October 2022.
Since graduating in 2015, Chanett has worked in both the fishing industry, offshore and the waste water industry until starting at Aquagain. She therefore joins with a good deal of experience.
She has fast fingers - both on the computer and in the lunchroom. Chanett speaks sign language because she is hearing impaired. Chanett lives in Tjæreborg with her husband and two children aged 2 and 4.
In her spare time, she is creative with needlework, enjoys cooking and hangs out at the local gym with her girlfriends.
Kurt Andresen consolidates the technical department with 24 years of experience as a Mechanical Designer, so even though he is new with Aquagain, he is certainly not inexperienced. We are pleased that he has chosen Aquagain.
Kurt lives in Holsted with his wife and 2 children aged 10 and 12 on a country estate, where he has plenty of opportunity to use his technical knowledge, because there are always maintenance tasks to tackle.
It is no coincidence that Kurt lives in a former farmhouse; The contact with nature is important for his well-being, which is why he also has a fixed agreement several times a week with a group of friends, for long walks along various scenic routes. The good thing about long walks is that it gives you plenty of time to talk.